Many people are unaware of the fact that Austin, Texas has a lot to offer as a place to live and as a place to enjoy a great vacation. As the capital of Texas, Austin is an oasis of cutting-edge technology, art, culture, music and a healthy lifestyle in the center of a state that in many other ways seems to be tumbling backward in time. If you're looking for an interesting and unusual place to visit, you'll find lots to do and lots to see in Austin. In this article, we will describe some of the main attractions that draw people to visit and live in this quirky city. Read on to learn more.
Austin Has A Vibrant Arts Culture
Surprisingly enough, many creative people flock to Austin. For this reason, it has a wealth of small, independent art studios that offer unique and fascinating artistic pieces of all kinds. Visitors to Austin can return home bearing gifts and souvenirs that are sure to be appreciated, admired and enjoyed for a long time to come.
In addition to small, independent art showings and sales, Austin is also home to some extremely fine museums. At the University of Texas, you will find the Blanton Museum of Arts. This museum features some very interesting exhibits dealing with travel along with a very strong art collection.
In the center of downtown Austin, you will find a dazzling new and modern building that is the home to the AMOA Art-House. This establishment features a fine display of modern art.
In addition to these permanent art exhibits and shops, Austin hosts a huge variety of art events and festivals throughout the year. Twice a year, all of downtown Austin is devoted to the Pecan Street Festival celebrating crafts and artwork. Check the Austin city website to learn what's happening in the city during your stay.
Austin Is The Capital Of Texas & The Live Music Capital Of The World!
No matter where you go in Austin, you're bound to hear live music! New bands flock to Austin for the opportunity to play and make a name for themselves. There are lots of places where live musicians can play, and a wide variety of live music is on offer at all times.
Among the many events and festivals hosted in the city, music festivals are the most popular. The best-known Austin music Festival is Austin City Limits. This festival has national renown and draws thousands of people to the capital city every year. Those attending the festival at Zilker Park can enjoy listening to hundreds of bands on multiple stages throughout the weekend.
Another popular music festival is the Fun Fun Fun Fest. This is a high-energy festival that focuses on alternative music and underground punk.
Diverse Interests Generate Diverse Attractions
All kinds of people visit and live in Austin and the city goes to great lengths to accommodate everyone with a diverse menu of choices in interests, activities, and festivals. Two charitable marathons are held in Austin every year that are popular among fitness buffs and those hoping to do some good in the world. They are the Austin Gorilla Run and the Susan G Komen Race for the Cure.
Other events and festivals include the Zilker Kite Fest which happens every March in Zilker Park. Residents and visitors turn out in great numbers to fly kites, explore craft booths and sample gastronomic treats offered by a wide variety of food trailers.
Another annual event that draws a huge crowd is the SXSW Music Film & Interactive Conference. This week-long event is well attended by both established and independent filmmakers. Musicians and those interested in interactive media and technology are also well represented at this event.
Austin Is A Fit City!
In a state where everything is bigger including the people, Austin stands out as a city where fitness counts. Although it is extremely hot in Texas in the summertime, the people of Austin enjoy a wide variety of outdoor activities that keep them healthy and strong. Among the opportunities for outdoor adventure in Austin, you will find:
Paddle Boarding
Water Biking
Canoeing
Kayaking
Boating
All of these activities can be enjoyed at Lady Bird Lake or at Lake Travis.
In addition to water activities, you can also enjoy biking and hiking on the well-maintained trail that encircles Lady Bird Lake. The trail is a popular destination for cyclists and dog walkers. It is lined with lush greenery and provides an excellent view of the Austin city skyline.
Walk Your Way Around Austin
Austin is a very walkable city with a generous green belt of hiking trails and interesting neighborhoods that are safe and enjoyable to explore. These walkable neighborhoods feature streets with good sidewalks that that are wheelchair accessible. The streets are lined with shade trees and have plenty of benches for resting and socializing.
Austin's walking neighborhoods are made up of streets that are well designed, include bicycle lanes and have plenty of access via public transit. Additionally, these neighborhoods have lots of shops, cafés and other amenities that make them enjoyable to stroll through and explore
Among the great places for walking and enjoying the day in Austin are:
The downtown area features parks, coffee shops, restaurants, entertainment, and a Whole Foods Market.
The University of Texas both have a nicely designed campus that is fun to walk. Public transportation and plenty of amenities are nearby so that students are able to get all of their needs met without the expense of a car.
The neighborhood just north of the University of Texas is called West University. This is a very walkable neighborhood because of its comfortable and well-maintained streets and interesting architecture. Most of the homes found here are historic, having been built in the early 20th century.
North University is another walkable neighborhood located in the center of Austin. This is another old neighborhood that features fantastic Christmas lights along 37th St. in the wintertime and some truly delightful cafes and coffee houses year-round. Be sure to visit JPs Java, the Spider House Café and Trudy's Restaurant.
Old West Austin is a very historic walkable neighborhood that makes visitors feels if they are stepping back in time. The neighborhood is rich in history, interesting schools and intriguing shops and restaurants.
The Bouldin Creek neighborhood is a great place to visit if you have diverse cultural interests. This is a well-populated neighborhood that features lots of small stores, ethnic eateries, tattoo shops and the like.
Enjoy The Vacation You Never Expected Deep In The Heart Of Texas
Everyone who has ever been to Austin will tell you that it stands out in Texas culture. It's easy to see that the capital city of Austin, Texas is a fascinating city that features a wide variety of interests, activities and fun for everyone. That's why anytime you're in Texas, you simply must visit Austin!
Another View from the Natives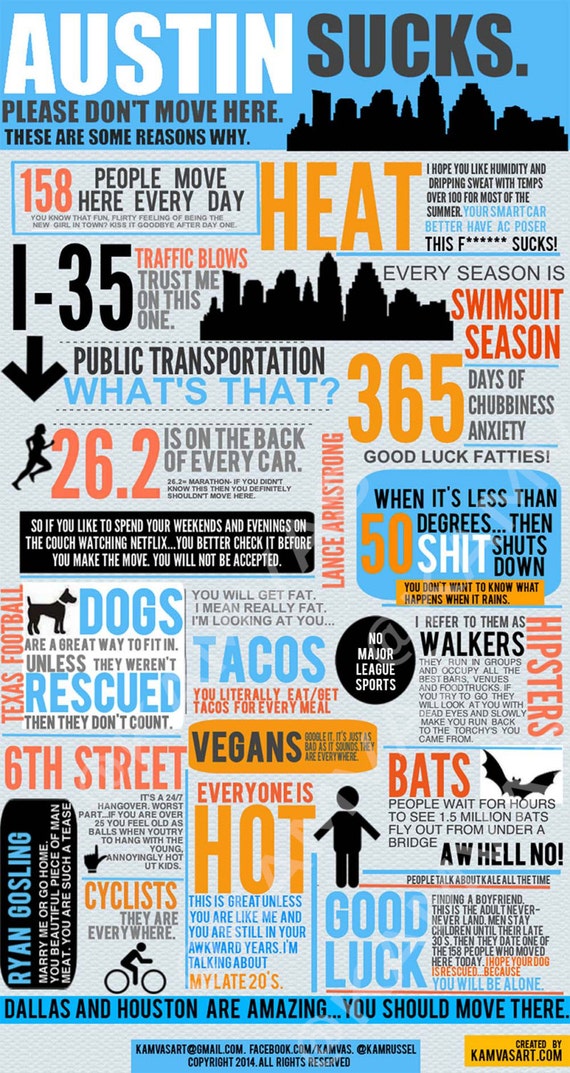 Infographic Source