Are You Drowning in Kid's Art?
Having a 5-year old means that I constantly have a huge selection of options for the fridge art gallery.  Not only does she love to color and paint at home, but she also attends preschool five days a week and comes home with a lovely little stack for me each and every day. Some of what she makes just melts my heart.  I can't wait to move it to a place of honor under a fridge magnet.  Some of it … let's just say … is less than fridge-worthy.  Most days there are several sheets of construction paper with a few lines or small scribbles or a single stamp on it.
Lately, she's come home with small cut-up pieces of paper and random slices of cut-up paper plates. The thing is, in her mind, each piece of artwork and every sliver of paper that she's cut (or touched), is precious.  Very precious.   If anything that she makes for us is treated in any way other than with the reverence which she knows it deserves (I think she may be planning a spot at Blanton Museum of Art under glass and lights), we run the risk of the wrath-of-Chloe (seldom seen, but scary), or worse, the broken-hearted sobs of a disappointed sweet girl whose feelings are just crushed. But, then what?
That is still a lot of paper to manage.  And if you are going to keep preschool artwork to cherish for years to come, you need a plan.  I've seen several over the years.   I usually hang a current favorite or two on the fridge, and then swap out for something new and move to a more permanent storage solution.
Storage Box
With my two older kids, I had a special "school work" box that I bought.  The cardboard box is basically like an office hanging-file office storage box, that came with hanging file folders and a lid.  The box is big enough to hold hanging files with flat 8-1/2 X 11 artwork sheets but also is roomy enough to hold a few of those odd size/shape art pieces that come home.  This storage method appeals to me because you keep the actual artwork, though after seeing how well the cardboard box holds up, I'm inclined to prefer a plastic hanging file storage box that seals out the dust a bit better.
 3-Ring Binder
Three-ring binders are also a great way to store art, and it fits nicely on a bookshelf.  Pick up a wide/large 3-ring binder (the kind with a clear pocket/window cover is great to showcase your child's art on the outside), and a box of sheet protectors.   As favorite art comes in the house, slip it in the binder.
This storage method is something that your child can participate in.  In addition to having your child create a masterpiece for the outside cover and spine, you can let him pick some favorites to add to the binder.
Using Photography
If you really don't have storage space and don't want to keep any of the paper, but don't want to lose the memories, a great option is to take a picture before discarding the original.  Take a picture of your child holding the art, and then a closer up of the artwork, and save the photo.  You can print the pictures (smaller/take less space) and put it in albums, or save it as a digital file.
My only concern with going all-digital is that media changes every so often.  I mean, my wedding video is still on an old VHS tape – having to translate to new media can be a pain.  If you don't keep up and make changes (and convert), that disk or flash drive may become obsolete and the files lost.
Scrapbook
If you scrapbook, print the photos and "scrap" the pages.   You can add in the original art if you want, but keep in mind that the construction paper and other art materials that come home from school are not likely to be acid-free and archival quality materials.  If you are a purist and only use acid-free/archive safe materials in any album, this is something to consider.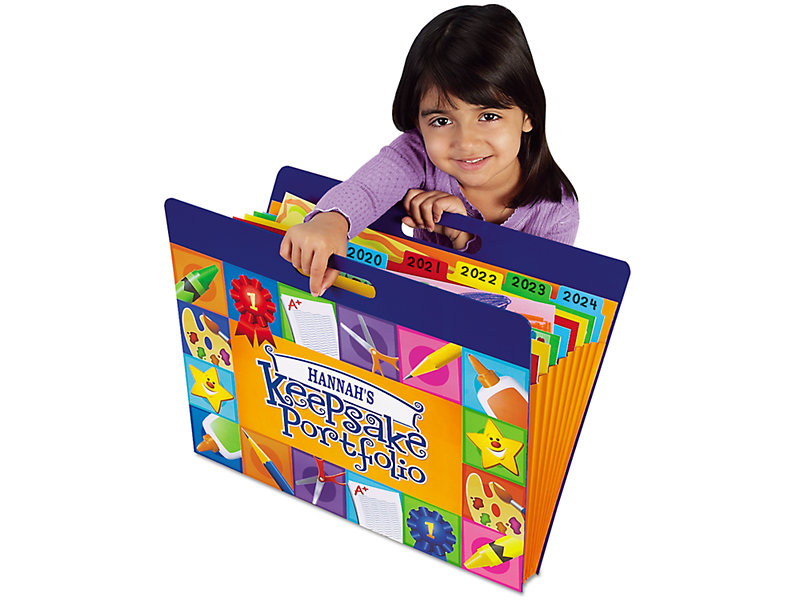 Share
Still, have too many amazing pieces from your little Picasso?  Share the love.  Grandparents, aunts, and uncles love to be on the receiving end.  I actually still have a drawing that one of my nephews (now a college senior) drew for me when he was very young.  It is laminated and still hanging in my office more than 15 years later.  Family members will cherish special creations that your young artist shares with them.
Regardless of how you store your favorite artwork from your child, recognize that it is OK to not keep everything.   Even if my 4-year-old does not quite understand that now (I have to hide what I'm doing when I weed out), she will in the future.  I know she will appreciate the efforts that I've made to save the favorites.